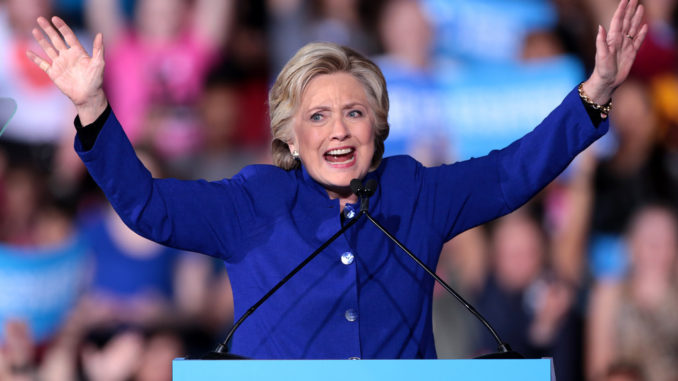 It's one thing–a very unfair, unjust, annoying thing–when the New York Times, Washington Post, CNN, MSNBC, and the entire mainstream media outside Fox ignore anything a Democrat does wrong and spends all of their time trying to find dirt on Republicans, especially President Trump.
It's entirely another thing when the Federal Election Commission ignores a formal complaint–complete with paper trail–about the Hillary Clinton campaign laundering and misusing funds in illegal ways during her 2016 presidential campaign.
Dan Backer, who brought the complaint, writes in The Day:
One year and two months. That's how long it's been since a formal complaint was filed with the Federal Election Commission (FEC), alleging Hillary Clinton's 2016 campaign orchestrated an $84 million campaign finance scandal — the largest in U.S. history. Yet the FEC has done nothing to hold the Clinton campaign, dozens of Democratic officials, and hundreds of six-figure Democratic mega-donors accountable for breaking the law.
Backer's complaint contains 101 pages of donor names and documentation.
What does it show?
---
Wanna Get "Rocky" On Command At The Age Of 120?
Well then you are going to need to ditch the statins.
Big Pharma has pushed statins on men with high cholesterol for decades.
And these cholesterol treatments make the industry a LOT of money, but at your expense…
These chemicals may lower cholesterol, but they'll keep your "member" non-functional and you won't be able to get it up.

The good news is that I've discovered a breakthrough revolutionary method for naturally lowering cholesterol without any "below-the-belt" side effects.
---
That the Hillary Victory Fund illegally funneled $84 million in bundled contributions to the DNC and bypassed state Democratic parties, which is illegal.
Hillary's campaign then continued to control the DNC money, setting its budget and parceling out funds to meet its needs.
These actions are illegal and represent a massive misuse of campaign funds and violations of campaign finance law.
A similar violation by Dinesh D'Souza, who gave $20,000 illegally in the same way as these Democrat donors did, got him eight months in a "community confinement center," probation, and a ruined reputation.
But the FEC has refused to act on this complaint, and also dismissed a lawsuit brought by the Committee to Defend the President intended to get action on the complaint.
And have you seen any of this in the news? Of course not.
The Deep State looks poised to get away with covering for Hillary Clinton yet again.
Maybe they look at it as water under the bridge. After all, Hillary lost.
But now that the Democrat Party Machine knows they got away with it once, you think they aren't going to do it for every election?
Maybe next time they won't have a possibly ill seahag that everyone hates for a candidate.
What do you think will happen then? Hit reply and share your thoughts.
warmly
–Ashleigh Dunn