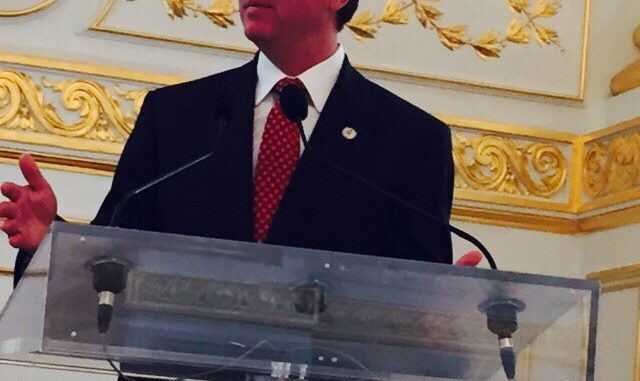 The fallout from the Mueller report continues to rain down on Washington, and both sides are continuing to position themselves for how to go forward.
This morning, all nine House Republicans on the Intelligence Committee called on chairman Adam Schiff to step down because of his repeated assurances before the Mueller report that there was "proof of collusion" between Trump's campaign and Russia.
From The Hill:
House Intelligence Committee Chairman Adam Schiff (D-Calif.) aggressively pushed back at calls for him to step down from President Trump and other Republicans, defending his past comments by lighting into the president and his family and campaign over its contacts with Russia.

Schiff at the opening of an Intelligence Committee hearing on Russia listed contacts between the Trump campaign and Russia that he described as being "not OK," signaling he'll fiercely defend himself from the calls to end his chairmanship.

"My colleagues may think it is OK the president's son was offered dirt as part of an effort to help Trump," Schiff said in his statement, pausing at times for dramatic effect.

"You might think it is OK. I don't," Schiff added, his voice rising as he went on.
Here's a video of the entire almost five minute tirade including Republicans whispering and snickering as he tries to hold on to power:
Did you make it all the way through that without yelling at the screen?
It's always great when the Lying Left has to try to defend its lies.
To paraphrase Schiff: "No, there was no proof of Trump collusion like I said there was. But Trump and his campaign did bad things and he should be punished even if there's no proof he broke any laws or rules."
Notice Schiff wants to point the finger at everything Trump "might" have done wrong…
---
Restore Your Metabolism to Teenage Levels
Scientists from Harvard, Penn State, and even Guangzhou University in China all agree that the true "fountain of youth" is a youthful metabolism.
And this breakthrough discovery lets any man naturally restore a teenage metabolism for decades of healthy, happy, SEXY life.
---
At the same time, Schiff completely ignores evidence that his opposing candidate Hillary Clinton likely colluded with Ukraine during her candidacy.
Let's investigate Clinton for two years and see what crawls out from under the rocks.
If the Republicans don't hold these Lying Lefties accountable for two years of false pretenses, speculations and foot-dragging, they're setting the stage for every future Republican president to get summarily dragged through the mud just in case they can get something on him (or her).
And while Trump's at it, he should pardon his people.
They got caught in the crossfire and served to make it look like Mueller had dirt when he had nothing.
They don't deserve to be the scapegoats for the Left's Trump hatred.
Do you think Adam Schiff should have to step down from the House Intelligence Committee after making it seem like Mueller had proof of collusion?
Should Trump pardon those in his campaign who were indicted by Mueller? Hit reply and share your opinions.
warmly
–Ashleigh Dunn