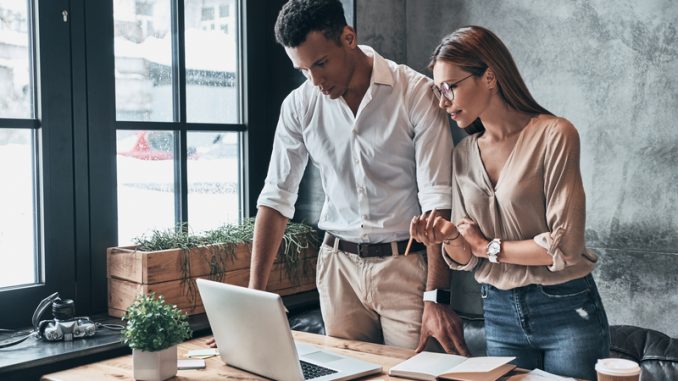 Is this a dry run? Why did they do this? Were you affected?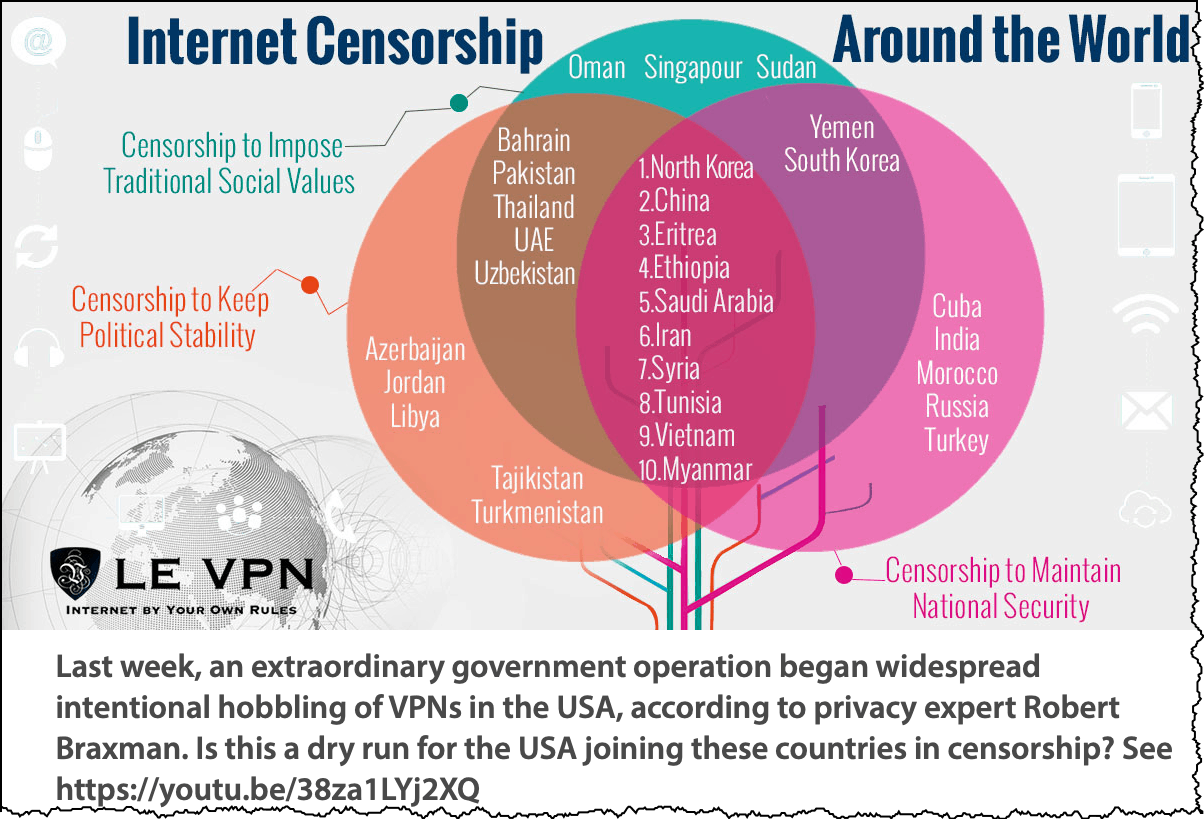 Hello there, Liberty lover. Today's stories:
The US government just ran a Chinese-style censorship operation on the American People from February 2nd to February 6th according to a leading expert. Shocking and disturbing — here's what every American needs to know
One time, Liberty Lover, I got so angry a few years ago, that I quit my job in the most dramatic way possible.
My boss was being a real jerk. He wanted to force me to sleep with him. At first, he was being really nice; he gave me a raise and bought me breakfast one morning.
He started to regularly see me and say sexually suggestive things, and he would ask me stuff that was NONE of his business.
It got to the point where he was threatening to fire me unless I slept with him. At that point, I decided I was FINISHED. I threw my stuff out of my desk, and I said, "I F****** quit!"
To me, this traumatic event as an eerie reminder to me of that time my privacy was really being invaded, Liberty Lover. And I never thought the day would come where my own government, in the land of the free, would want to tear up the last vestige of privacy their citizens have.
But to be honest, I knew this war on privacy was here once Edward Snowden came out and revealed that the NSA was spying on U.S. citizens back in 2013.
Now, I never thought that I would have to say this, but apparently we're just as easily controlled as the Chinese population. If we don't act, Liberty Lover, it  won't be long until our society models China exactly. Because that's precisely what Big Tech wants.
–Sponsored–
Warning: Are you taking any of these blood pressure treatments?
Doctors aren't warning men about these deadly blood pressure treatments…
The only time you hear about it is when Big Pharma is forced to issue a recall, like this one:

But in the meantime, more and more men are being put on these dangerous blood pressure treatments and suffering terrible "rockiness" problems, or worse…
So check your bottles — are you taking any of these?
——–
Many Liberty Lovers like myself use what we call a VPN(virtual private network). This allows Liberty Lovers to surf the internet in total secrecy, and nobody can see what their online activity is. It's not really much different than saying, "I want the curtains in my bedroom shut."
And anyone who works from home for a large organization is probably forced by their employer to use a VPN.
VPNs are the heart of privacy today.
Now, that's ALL about to change..
On February 2nd, less than two week after Biden's inauguration, we noticed a complete shutdown of VPN services. No other servers on the internet were affected. These were only the VPNs. They became terribly, terribly slow.
Did you notice? Did you think that was your VPN provider screwing up?
It wasn't. It was the US Government.
They used a special type of technology called DPI(Deep Packet Inspection)  that was able to differentiate regular server traffic with traffic that was using a VPN.
This was all uncovered by one of the most seasoned tech experts on the internet. A new video by a tech privacy guru named Rob Braxman Tech was how I learned about this issue.
Fortunately, there are ways around this issue which Rob Braxmen has brought up.
There are ways of what tech experts call "obfuscating" so it does not look like VPN traffic. People in China have been developing ways to fight these VPN sniffers for decades.
So, Liberty Lover, it might actually be with the help of very intelligent people in China who have already figured out how to defeat firewalls so that we can defeat the Deep State and protect our First Amendment rights.
Imagine running out of heat in the worst Winter in 80 years
I'm not sure if this thought has crossed your mind, Liberty Lover, but it has been a very cold winter.
In the age where we're told we're facing climate collapse, we've seen more snow here in the U.S. than in a number of years!
I have a sib who lives in Austin and he said they have temperatures close to ZERO. That is so unusual nobody alive remembers it this cold.
Record lows temperatures in northern states across America right now are being set, according to an article from Climate Change Expert Blog. It says,
"Hundreds –potentially thousands– [of cold weather records] are expected to tumble over the coming 10-or-so days as the Arctic air descends south."
An article from elctroverse.net has discovered that Earth has been cooling at an intense pace the past two months.
And a quote from the climate change blog says,
"Moreover, this winter there have been many long windless periods, and so Germany's approx. 30,000 wind turbines have been largely out of operation."
As we just mentioned, Germany is facing record levels of snowfall, and very low wind activity.
Yet… Amongst all of these facts.. World Economic Forum crony Greta Thunberg wants to remind everyone all day that we're in grave danger of global WARMING.
What a scam.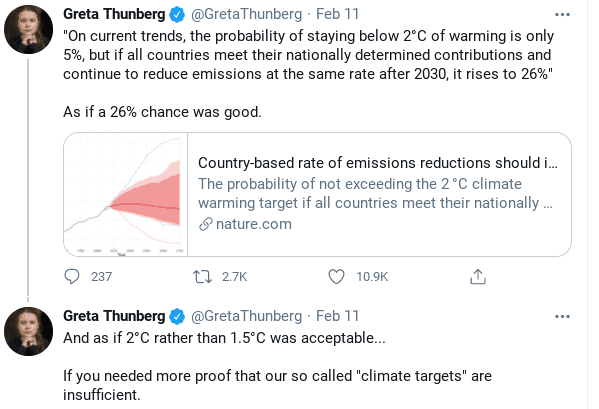 This is all going on while the World Economic Forum and the Great Reset are happening. The entire message of the WEF and the Great Reset is all about saving the planet from climate disaster.
So, their solution is something along the lines of the Green New Deal which was championed by Democratic swampie AOC.
If we let the Democrats and World Economic Forum have their way, all of Germany would be freezing because coal would be outlawed.
And the Biden Administration is in love with what they are doing in Europe. They want to ruin things in the USA.
The point I'm making Liberty Lover, is that we don't have the infrastructure right now for a Green New Deal.
For decades we've had opportunities to develop sustainable energy, yet the U.S. government has done nothing about it.
Now, out of nowhere, Democrats are pretending like they care about climate change. However, if you look at their policies it will tell you exactly the opposite.
Remember the infamous BP oil spill that happened in 2010 when Obama did nothing to reprimand the company? Why didn't he just shut down British Petroleum?
The answer is because the ruling class and the Democrats truly don't care about the environment. All they care about is creating a crisis which they can benefit from.
So, Liberty Lover, This is the cold war that you weren't expecting. It's between us Liberty Lovers and the Deep State.
Thanks for reading! You and all the other Liberty Lovers are what keep us going at Daily Liberty News, and we wouldn't be here without your help.
Remember to stay warm! Love from your favorite Blonde Bombshell,